Specifications:
Product Description
Natural color Strand Woven Bamboo Flooring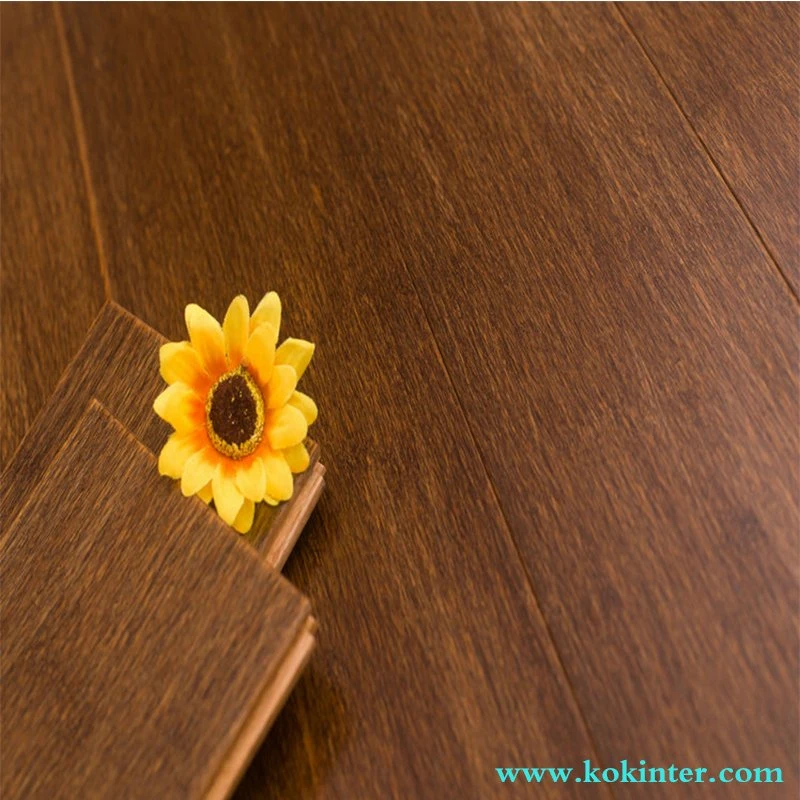 Strand Woven Bamboo Flooring is made from 100% MOSO Bamboo strip. The cool pressed strand woven bamboo flooring is by far the best method of producing this type of flooring. which gives not only higher rigidity and density but also lower formaldehyde releases. And more stable than hot pressed producing strand woven bamboo flooring.
Strand Woven Bamboo Flooring Production Process:
Shredding bamboo strips into filaments. Anti-corrosin treatment. Sizing treatment. Coolpressing bamboo filament.(Weather Temperature, pressure 4,000tons). Quenching, tempering and conditioning.Size cutting. Tongue & Grove milling. Coating and finishing.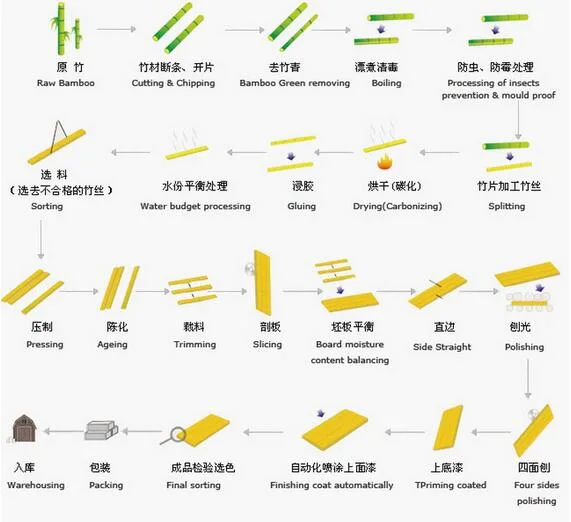 1) Materials: 100% bamboo
2) Technics: Strand woven
3) Moisture content: 8%-10%
4) Formaldehyde emission: Up to E0/E1 standard of Europe
5) Varnish: 'Treffert'
6) Coating: 9 layers of German 'Treffert 'lacquers on the face as the bottom surface, 2layers top coating
7) Joint: Tongue &Groove with a micro beveled edge or click system
8) Supply ability: 50000m2/month
9) Certificate: CE Certificate, ISO 9001: 2000
10) Packing: Plastic films with carton box
11) Delivery time: 25-30days
50 kinds of styles for the choose You can also customize the styles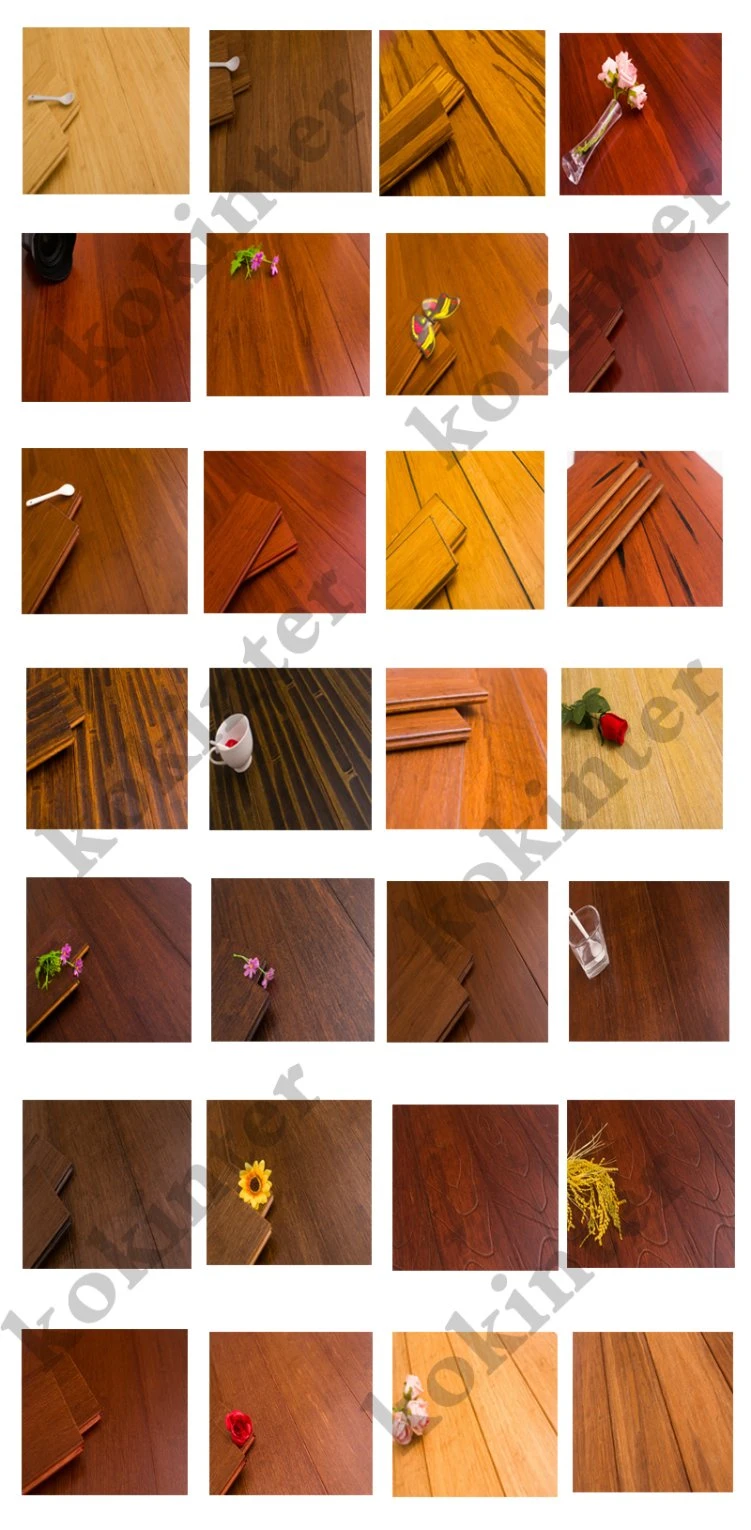 Why Bamboo
Sustainablility
Bamboo is one of the earth's fastest growing plants that grows to maturity in 5 years or less.
Selected Harvesting
Each bamboo culm used in the production of furniture products is individually selected by the local
farmer and harvested by hand. This preserves the eco-system of the native bamboo forest, and leaves the
bamboo root system intact, from which new bamboo shoots will emerge and grow the following year. We does not use clear cutting, a timber harvesting method that involves the removal of tanding trees in a
given area, commonly used in the wood lumber industry.
NO WASTE
We utilizes the entire bamboo culm in the manufacturing process, wasting nothing. 100% of the bamboo material is used, including the sawdust, which is put to use generating steam for the dry kiln room and
press machine.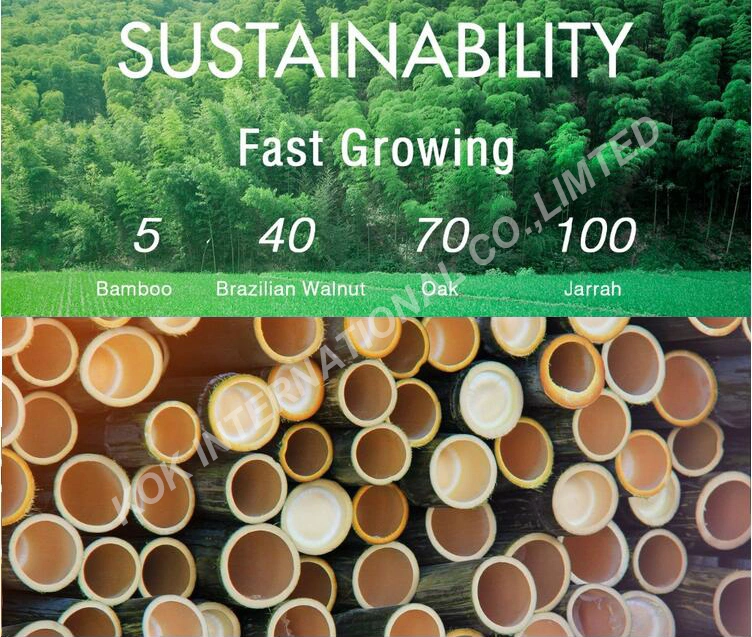 How we protect and pack your flooring and shipping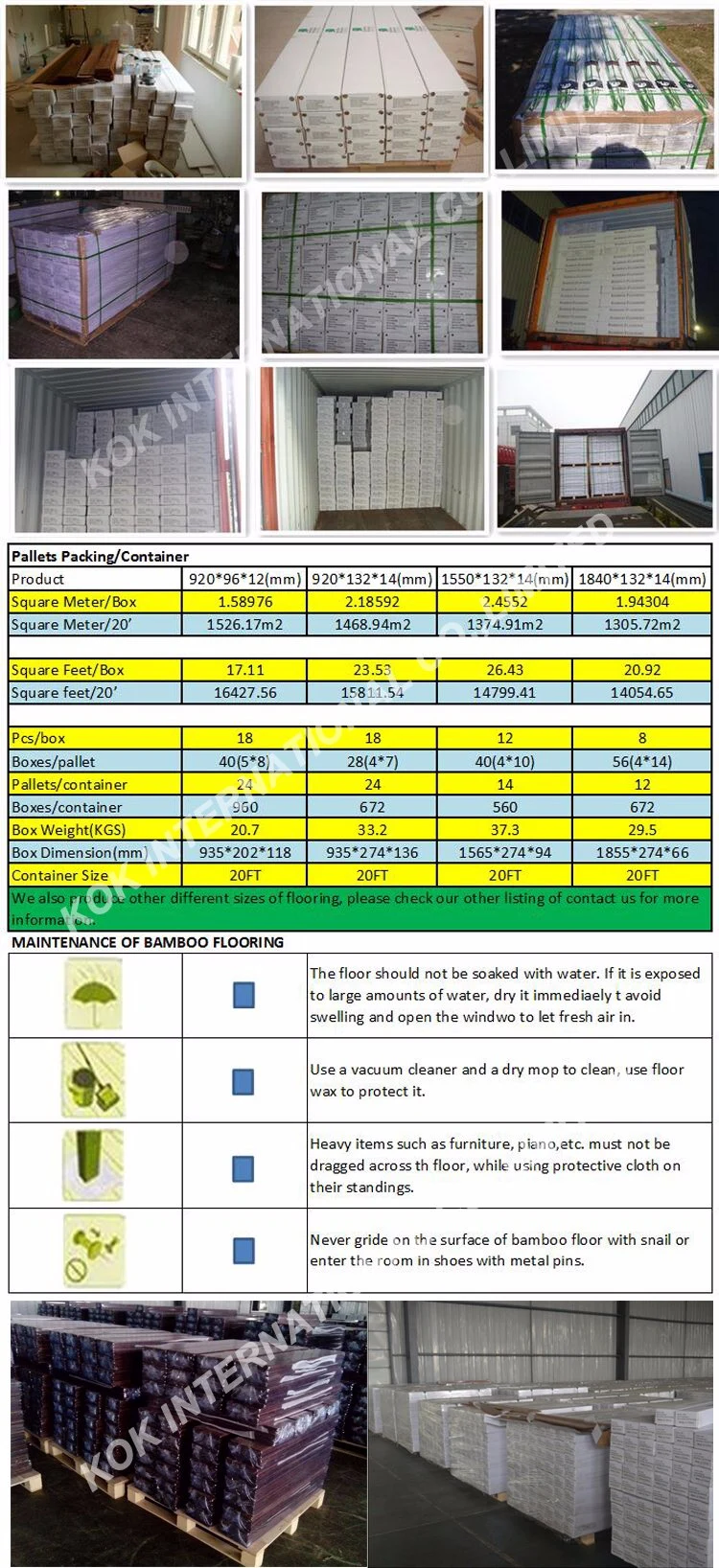 FAQ
Q. How many years of quality assurance?
A.20 years'quality warranty.
Q.Is Bamboo flooring a good, environmentally friendly product to use?
A. Bamboo flooring in your home is recyclable, natural, biodegradable and durable. It is a statement of value and beauty that is also a functional asset which is easy to maintain.
Q. What's "square edge", and "bevel edge"?
A. It means the shape of board edge, it's vividly displayed when two boards are jointed together.
Q. What's the installation advantage?
A. Most bamboo floors are recommended to be glued down or be floated.
Glued down: it's installed on underlayment materials like cork,EPE foam,etc. They can also be installed over most flat concrete slabs, ceramic tile, vinyl flooring, providing these floorings are secured well to the underfloor and that any surface wax,dust,or glaze is completely cleansed and the surface is roughened up so as to keep enough adhesion for the glue.
Floated: This is a very fast, easy and clean installation method. Floating floors are not mechanically fastened to the subfloor: instead, each plank is glued together with wood glue applied in the tongue and groove. A foam-pad(3mm-10mm) is placed between the wood flooring and the subfloor to protect against moisture, reduce noise transmission, and "soften" the floor. This is the easiest and most versatile installation method.
Contact us