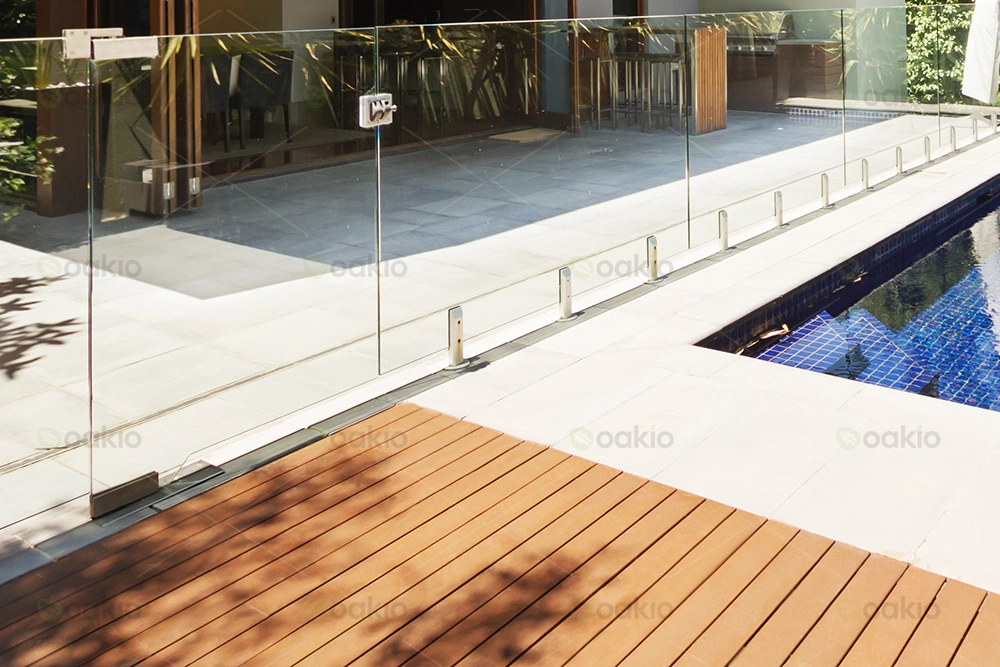 Matshield is the brand new technology that brings you matte surface of outdoor decking. What is more, it is fire resistant product, which stands out from the crow.

As a result, Matshield achieves superior fire resistance to any other co-extruded decking on the market. It is fire resistant to Class B according to En13501, the highest fire resistant level for composite materials in the world at the moment. The standard includes seven classification levels, from A1 to F, with A1 representing the highest level of performance and F representing the lowest level. Matshield achieves Class B. It is colour fade resistant, strength load resistant, stain resistant and also highly slip resistant.
• All the advantages of Iniwood and more
• Matte surface with luxury hard wood appearance
• Fire resistant to Class B according to Europe standard
• No stains, fades, mold or mildew
• Ultra scratch resistant
• 25 years residential warranty

Oakio Matshield decking is made using a combination (or 'composite') of both natural wood fiber and HDPE resin materials,and there is a layer around the WPC core to protect the surface, the layer is a kind of mixed multi plastic with additive like UV stabilizer, coupling agent, anti-oxidant and so on. The results of this process are then turned into high-quality decking that look more authentic than plastic decking and require less maintenance than normal wood. This product is considered the best of both worlds: like plastic board, it's practically maintenance-free, and yet it still has all the natural beauty and charm of traditional timber! Aleader for outdoor surface, Oakio Proshield decking is ultra UV resistant, scratch resistant, mold resistant and stain resistant. With various advantages as above, Matshield WPC decking's outstanding performance is matched with a 25 years warranty.


Material:
Wood Plastic Composite
Code:
MPD02
Dimension:
139 x 23mm
Color:
Oak, Teak, Antique, Cedar, Dark Grey, Walnut
Surface treatment:
Deep wood grain/Brushed
Package:
Safe-Pallet or as Customer′s Requirement
MOQ:
200m2
Delivery time:
15days/1000m2
Payment:
L/C, T/T, Paypal
Certification:
CE, SGS, ISO, Intertek
Feature:
Matte surface: Low-key style
Strength and durability: Stain-proof, mildew and mold proof, no cracking, no need for oiling or painting
Convenience: Easy to install and ultra easy to maintain.
Appearance: Looks like real wood-even up close.
Living space: Adds outdoor living space for the entire family to enjoy, and at a low cost.
Premium fabrication: Uses the finest in recycled materials to deliver the highest-quality product to homeowners and home owners.
Warranty:
25years
Maintenance:
Scrub with some cleaner and water.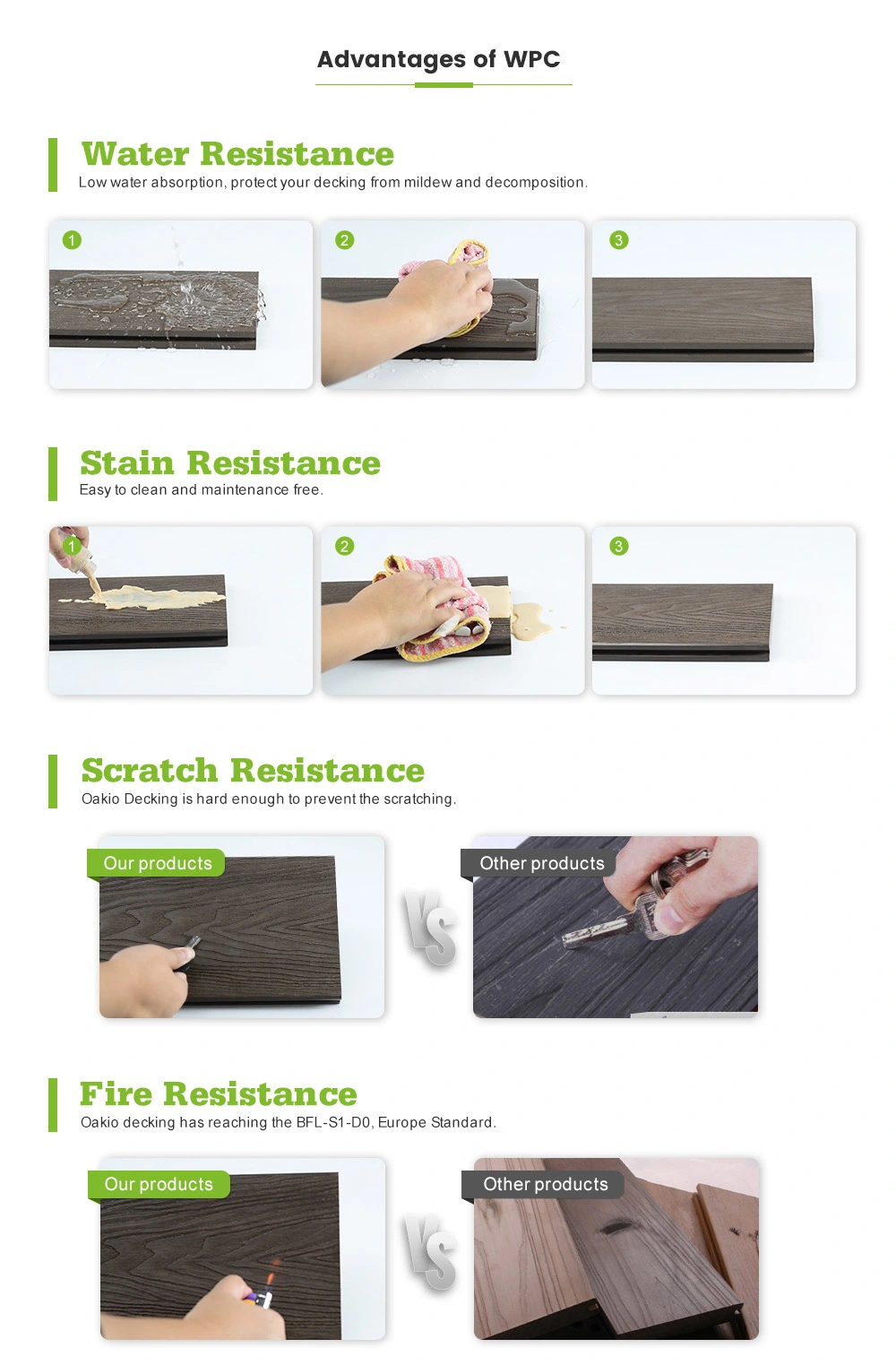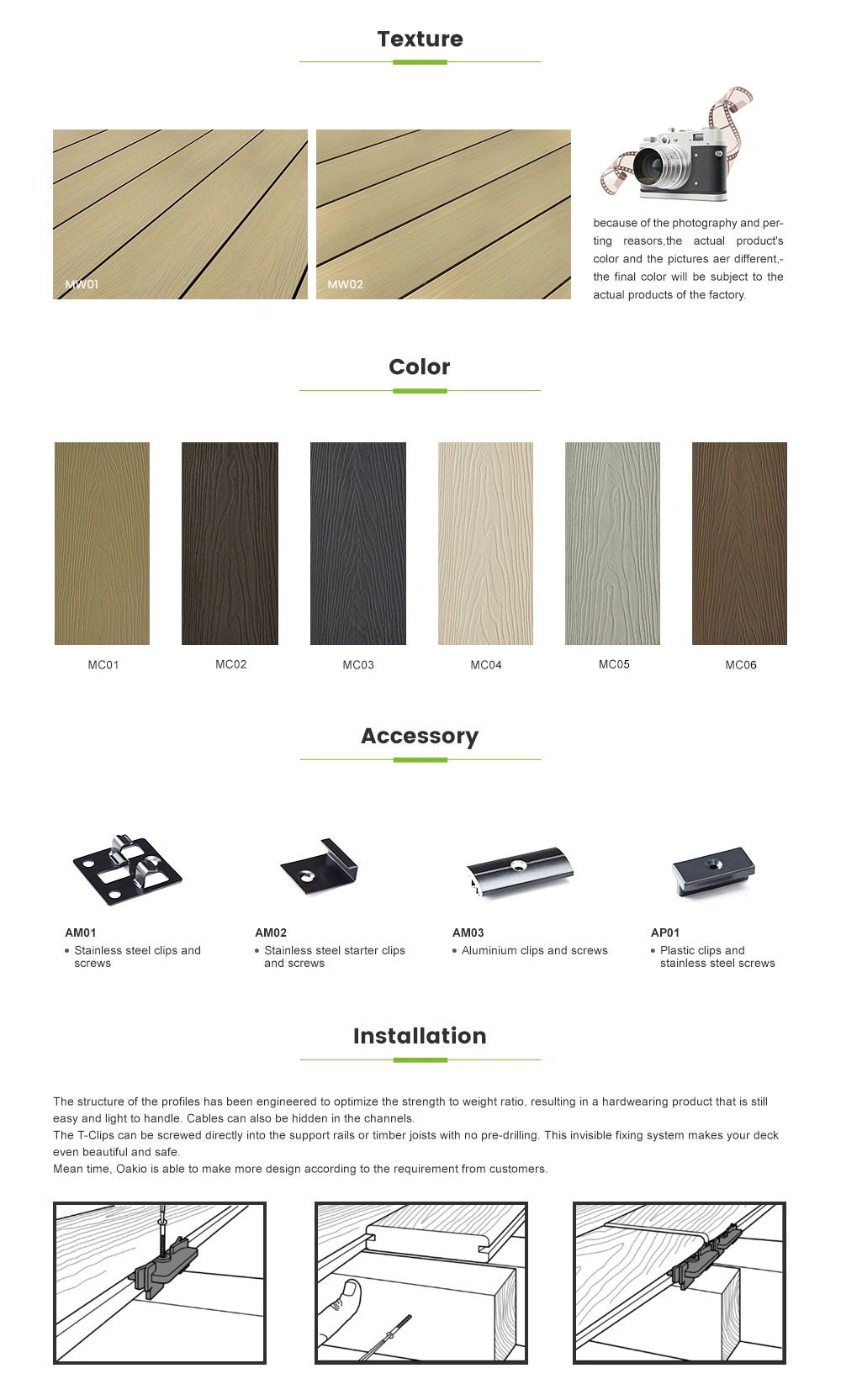 A:
Our composite decking is made by 60% of wood fiber, 35% of plastic and 5% of additive. Take Iniwood decking for instance: Traditional composite decking on the market is made by mixed wood powder, but we put oak fiber and organic color powder in it, which make the color of Iniwood decking is more stable than normal.

A:
It depends on the texture, quantity and the products. Take a 20GP container of composite decking for example, the leadtime is about 20days. Actually the lead time is flexible for large order and long term cooperation.

A:
Oakio products are already colored so do not require painting at all. Also, due to the plastic content within Hyperion products there is no need for any further treatment. This also makes it easy to clean.
Send Inquiry to Get the Latest Competitive Price and Best Service!!